Release Tension with Massage Therapy in Pikesville, MD
Massage therapy and chiropractic service go hand in hand due to their mutual benefits. At Fidel Integrated Medical Solutions, you can receive both treatments. Chiropractic treatment is known for alleviating pain by realigning your joints and vertebrae. Massage therapy complements chiropractic services by soothing muscle pain and enhancing your immune system. We ensure you feel better immediately after one of our massage therapy sessions.
Our Massage Therapy Services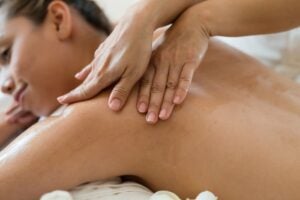 Fidel Integrated Medical Solutions
strives to provide nothing less than the best to residents throughout
Pikesville, MD
, and the surrounding areas. From state-of-the-art massage therapy techniques to advanced physiotherapy massage sessions, we offer it all. Our massage therapy services include:
Licensed Massage Therapists – They perform relaxing and therapeutic massages that will help improve your circulation while relieving stress and pain from injuries.
Registered Chiropractic Assistant – They work under the direct supervision of a licensed chiropractor and provide support and expertise to ensure everything runs smoothly.
Scheduling – We do our best to accommodate our customers' schedules and those of our licensed massage therapists.
Flexible Spending Accounts (FSA) – This is a unique healthcare plan that you put money into to pay for certain out-of-pocket health care costs.
Health Savings Accounts (HSA) – This special savings account lets you set aside money on a pre-tax basis to pay for qualified medical expenses.
Insurance – Depending on your treatment plan, massage therapy may be covered by your insurance.
Contact Us for Massage Therapy Services Today
Massage therapy benefits are vast. As with our chiropractic care, massage therapy can benefit those with lower back and neck pain. We have a friendly, licensed massage therapist on board who has five years of experience and 11 years of experience as a chiropractic assistant. When you book your session, we ask you to arrive 10 to 15 minutes early to get settled in and ensure you enjoy your full 60-minute massage. Make massage therapy part of your treatment plan today by contacting the professionals at Fidel Integrated Medical Solutions.