Custom Orthotics in Pikesville, MD
If you're suffering from any ailments or pains that affect the lower part of your body, from shin splints to plantar fasciitis, you might benefit from custom orthotics. Custom orthotics are created for each patient to support their feet and to provide relief. At Fidel Integrated Medical Solutions, we carefully examine our patients' feet and listen to their symptoms to develop the ideal orthotic solution for them. 
What we treat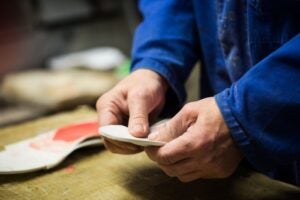 There are two categories of custom orthotics: 
functional and accommodative. These treat different issues associated with 
the feet and the lower body.
Functional orthotics help correct a patient's abnormal movements that can cause pain and discomfort. This means that if you tend to walk with a limp or in some other way that is not considered aligned, you could be a good candidate for functional orthotics. Symptoms that would help indicate a need for these kinds of orthotics include lower back pain, hip pain, knee pain, shin splints, and tendonitis. You may have been born with the issue, such as having one leg longer than the other, or have sustained a sports-related or other injury that has led to your misalignment. These orthotics are often created from graphite, plastic, or another semi-rigid material to offer proper, corrective, and effective foot support. 
Accommodative orthotics work to relieve pain from ailments of the feet. These can include diabetic foot ulcers and calluses. Softer than functional orthotics, accommodative orthotics are intended to cushion and support the feet as you put pressure on them when walking or running. 
Other foot problems custom orthotics can alleviate include heel spurs and plantar fasciitis, which occurs when tissue along the bottom of your foot becomes inflamed. After a thorough examination, we can determine what the best orthotics solution is for you. 
How we work
To analyze your issue, we first discuss with you any known causes of your discomfort and any previously diagnosed conditions. The next step is conducting digital feet assessments and scans to get a better look at what could be causing your pain. The foot scan demonstrates the integrity of the three arches of the feet. While many people think the foot has only one arch that runs from the ball of your foot to the heel, this is actually two arches, the medial longitudinal and the lateral longitudinal. The third arch is just below the ball of the foot and is called the anterior transverse arch. If there are any imbalances with these arches, we may recommend custom orthotics. 
We will take care of obtaining and fitting the proper orthotics for you at our office. They generally are placed inside the shoe, similar to the store-bought inserts, but those are not tailored to your feet or made to alleviate your specific ailments. While likely more expensive than the mass-produced inserts, custom orthotics will do a better job and last longer, and they may be covered partially by your insurance provider. 
Call us at (410) 413-1163 (Pikesville) to schedule your assessment.