Premier Physical Therapy Services in Pikesville, MD
Since 1987, Fidel Integrated Medical Solutions has provided premier physical therapy services throughout Pikesville, MD and the surrounding areas. From auto accident injuries to work-related injuries, post-surgical injuries, sports injuries, back and neck pain, and chronic conditions, our physical therapy services can help.
What Is Physical Therapy?
Physical therapy is a type of care that aims to ease the pain. This type of care is performed to help patients function, move, and feel better overall. With physical therapy treatments, patients can experience improvements in recovering from injuries. These treatments work to manage discomfort and improve mobility while helping patients avoid surgery.
Our Physical Therapy Services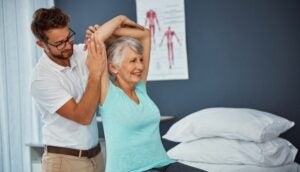 Physical therapy can help you recover after an injury or surgery and help you improve your performance in your athletic activities. Our therapists will help you reach your highest potential. We now have a physical therapist and medical doctor on site. Our physical therapy services include post-surgical, balance training, exercise, cold laser, electrical muscle stimulation, ultrasound, traction, and many other modalities. The treatments we perform are evidence based.
The healing process can be lengthy. However, you can speed up your recovery through our physical therapy services. Fidel Integrated Medical Solutions takes pride in its chiropractic approach to physical therapy. By integrating chiropractic services into your treatment plan, we can strengthen your joints and spine. Once we're through, you can return to the daily activities you enjoyed pre-injury.
What Can Physical Therapy Help With?
You don't have to live with pain or discomfort any longer. Our premier physical therapy services can help with a wide range of medical conditions. Our physical therapy practices can help with:
Auto Accident Injuries – After being involved in an auto accident, you may experience pain, stiffness, and reduced range of motion. Physical therapy can help you reduce pain and restore function, all while helping you avoid surgery.
Work-Related Injuries – Injuries that affect the bones, tendons, ligaments, and muscles are common workplace accidents. Those who have endured work-related injuries can benefit from personalized physical therapy care.
Post-Surgical Injuries – Physical therapy can help alleviate post-surgical injuries by decreasing pressure on your muscles and joints, aiding you in regaining your range of motion and overall strength
Sports Injuries – These types of injuries are unfortunately relatively common. Physical therapy can help athletes regain mobility and muscle strength after an injury. Back & Neck Pain – If you suffer from back and neck pain, physical therapy might be the solution. This type of therapy can reduce pain and stiffness, improve your head and neck range of motion, and strengthen your back and neck muscles.
Chronic Conditions – Physical therapy care often plays a critical role in chronic disease management, as it can improve a patient's overall quality of life.
Why Is Physical Therapy A Good Choice?
Physical therapy is an excellent choice if you suffer from a specific injury type, back pain, neck pain, or certain chronic conditions. In addition to helping manage pain, physical therapy treatment can improve mobility and strengthen muscles. In turn, muscle strengthening can help prevent easy injury in the future. Let the professionals at Fidel Integrated Medical Solutions help manage and minimize your chronic pain. Whether you've temporarily lost mobility due to surgery or an accident or have a chronic condition that's gotten out of control, we are here for you.
Contact Us for Physical Therapy Solutions Today
Our physical therapy services include several techniques, such as education, exercise, and joint alignment. Figuring out which methods are right for you are determined during your appointment with one of our chiropractors. You can achieve full recovery safely and quickly with Fidel Integrated Medical Solutions. Contact us today to learn more or to schedule a consultation.