Medical Weight Loss Program in Baltimore and Pikesville, MD
Though you might recognize that weight loss is an essential step toward better health, you may have difficulties losing weight and keeping it off. Weight loss can be challenging for a number of reasons that are out of your control, including underlying health problems and hormonal imbalances. By seeing the holistic weight-loss approach of Fidel Integrated Medical Solutions, you can finally overcome weight loss obstacles to see real results. Our Baltimore practice provides a wide range of medical services, including weight loss programs for all types of weight management goals.
Benefits of a Medical Weight Loss Program
When it comes to weight loss, you have many different options. You might try to go at it on your own, explore a guided weight loss program, or seek programs offering the fastest results. With medical weight loss at Fidel Integrated Medical Solutions, you can expect to see gradual results that last. If you encounter hurdles or weight loss plateaus along the way, your program may be adapted to your changing needs. Let's take a closer look at the benefits of choosing our practice for medical weight loss services.
Customized planning – As a chiropractic and wellness clinic, our office will take a look at the greater picture of your health before recommending a diet and exercise program. Your medical weight loss program will remain tailored to your needs as you see numbers fall on the scale. Unlike other diet programs, our medical weight loss services will take your unique needs and preferences into account, so you can stay on track and maintain your results.
Lasting results – In many cases, weight loss programs aren't unsuccessful because they fail to produce results. The real problem is that results are not always sustainable, so the weight is gained right back. With medical weight loss, you will see results that last so that you can enjoy the long-term benefits of living at a healthy weight.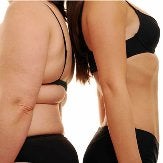 Our Medical Weight Loss Approach
Using technology such as body composition analysis as well as clinical tests to measure hormone levels and test for food allergies, our practitioners can create a diet program that matches your nutritional needs. As you begin to follow new dietary habits, you might also start an exercise regimen, which may include physical therapy or spinal adjustments to reduce the chances of injuries and ensure optimal muscle tone. We may also recommend medications like B12 injections to supplement your weight loss efforts by increasing your energy and boosting your metabolism.
To schedule a weight loss consultation at Fidel Integrated Medical Solutions, call our office today.
Before:
After: